Ms Poopee Doodee is Naked and Free!
Ms Poopee Doodee, world's most determined reporter brings you the latest groundbreaking news from 666 news.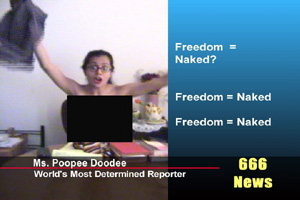 Ms Poopee Doodee reports on being Naked and Free! She is even wilder than you expect. She is a Girl Gone Wild!
Ms Poopee Doodee discusses nakedness and freedom. Excerpt from Ms. Divine's Tee Hee Heure.
This and more fun hot action available on DVD! Just fill out the form and I will get back to you.

Poopee Doodee has more to say! Select a clip from below to see more of her!
Play
Poopee Doodee Title
Mop
The Office
Eyewitness
Elvis has left the building
Ratings
The Struggling Artist
Obama Gorilla Other Show Headline
Why do the Show?
The Circular
Boycott Dish and Satellite TV