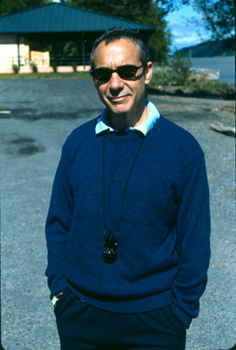 Lloyd Kaufman
My interview with Mr. Lloyd Kaufman of TROMA was quite a pleasant one. It took place in the TROMA building (NYC) on June 6th 2006. Lloyd Kaufman is currently on an international book tour from America to Europe, in support of his latest novel, The Toxic Avenger. He is also promoting his latest movie Poultrygeist.


Ms. Divine's Tee Hee Heure
This video interview of Lloyd Kaufman will be airing on my local TV show called Ms. Divine's Tee Hee Heure. It airs weekly on Mondays at 11:00AM on Channel 34, and Mondays at 8:30 pm on Channel 35 in Queens, NY via Queens Public Television.
It also airs weekly in Manhattan, NY Mondays at 10:30pm, Channel 67. These channels are accessible to ALL residents of Queens and Manhattan who subscribe to cable TV. Tune in to support open sourced media!
If you are a resident of either county, send me an email and I will let you know when the episode of Lloyd Kaufman airs.

My show is a collection of short sketch comedy films that I do, and if you are interested in finding out more, I recommend downloading my latest sketch film Dancing Girl or "A Most Particularly Peculiar Bank Heist", that is if you are in the mood to see something peculiar....


The Infamous Lloyd Kaufman
Troma was founded by Lloyd Kaufman and Michael Hertz, and has established itself as a completely independent film company all the way back from 1970's. From what I understand Michael Hertz is living in a fridge eating dog food, and thus was unavailable for comment. Personally, if dog food is good for dogs, then its fine for humans. But dog food isn't even good for dogs. Read more about my views of the dangers of pet food and the corrupted Pet food industries here.

But anyway, Troma was the only film company to acquire and promote the horror Blood Sucking Freaks (directed by Joel Reed), which at the time was considered the most disgusting movie ever, and thus was shunned from all other film distributors. Blockbuster actors today from Kevin Costner to Samuel L Jackson have starred in Troma's movies. In fact, when Lloyd Kaufman was interviewed on CNN, he mentioned that Kevin Costner's best performance was in Troma's "Sizzle Beach". The reaction of the interviewers face to this would have made a great snapshot..


Lloyd Kaufman is a producer/screen writer/actor and movie director. He has directed classics such as The Toxic Avenger and Class of Nuke Em High. The Toxic Avenger was his biggest hit and even went on to inspire a children's cartoon.

Since then Lloyd Kaufman has been able to produce a slew of TROMA movies in true independent fashion.

He has been in this "Hollywood" business for over 30 years, and has been acknowledged by directors ranging from Quentin Tarantino(Reservoir Dogs, Pulp Fiction) to Peter Jackson(Dead Alive) as a notable and inspirational influence in their work.
Lloyd's friend, director Roger Corman(The Raven, Bucket of Blood) wrote the intro to one of Lloyd Kaufman's books.

Lloyd Kaufman has managed to reach audiences not just in America, but from Europe to even Indonesia. Despite this international fame, his movies are still not played on independent film channels such as IFC, Sundance etc. Which just goes to show, how the word "independent" has lost much of its meaning and is simply a trendy word used among most Hollywood Celebrities. Block Buster Video refuses to carry his movies as well.

I discovered Troma movies, in an old rundown video store. I rented Blood Sucking Freaks and Class of Nuke Em' High for about $2.

The main reason I enjoyed watching Class of Nuke Em High was the endless assortment of outrageous characters. However, the nudity and suggestive scenes that are sometimes present in his movies never held my interest. Which just goes to show how interesting his movies are even after fast-forwarding those scenes. The central theme of anarchy and chaos present in many of Lloyd's movie is something that has appealed to me. That's something that is hard to portray.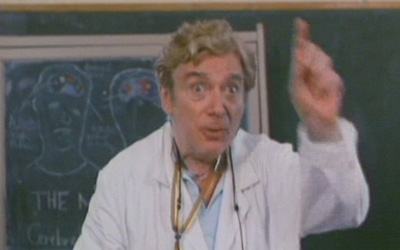 Lloyd Kaufman has also made little cameos in his movies. He is a great actor and I always enjoy watching him perform in various roles, from the nutty professor/scientist in Toxic Avenger to the blind director in Terror Firmer.

The "bad" guys in Lloyd Kaufman's movies are often the most entertaining characters. In Class of Nuke Em High, the crazy antics of the bad bully kids was a lot of fun to watch.
| | |
| --- | --- |
| | In the Toxic Avenger, I enjoyed the performance of the dude(played by Robert Prichard) who kept getting upset at how "stressed" life was making him. |
| | |
| --- | --- |
| Other funny scenes were the policemen constantly eating while conducting their homicide investigation as the dead bodies lay on the floor. Many new movies, try to make scenes such as this very obvious in a punchline sort of way and then it just loses the humor. In Lloyd Kaufman's movies, these scenes are placed more naturally creating a better comedic effect for the viewers. | |
Other interesting scenes was when a midget lady was brutally shoved into a dryer by the Toxic Avenger. The audience at first is a little surprised that the hero, the toxic avenger attacked an innocent person, but Lloyd Kaufman makes it quite clear later that she is the owner of a slavery ring. Hehehee.

The violent comedy present in Lloyd's movies (especially the early ones) is an enjoyable bonus which gave it all a very distinctive and energetic flavor.
One memorable scene was when the over-stressed bad guy comically beat up an old lady to steal her car. And of course my favorite scene was the whole point system that the bad guys had with running pedestrians down. How often does one see such anarchical type scenes such as that!

Even up to today, there are many that would denounce and criticize that hit and run scene as "unacceptable" and will never dare play that movie UNCUT. But yet those same people would probably praise Sarah Jessica Parker's "Sluts in the Big City". Perhaps if the season finale was done Troma style they can all get AIDS and die...

Anyway, Lloyd Kaufman mentioned once how he was stuck on a plane with his little daughters watching the PG movie Pretty Woman. He was disgusted at how Hollywood can be so contradictory in condemning his movies but yet supporting the glorification of a prostitute and going so far as to make it available to children.

Browsing thru some film reviews on IMDB (Internet Movie Database), I noticed the common description for Class of Nuke Em High and The Toxic Avenger was the word CHEESY. The people who like Ben Stiller's and Mike Myers' supposed comedies use the word Cheesy to describe movies like Toxic Avenger, Nuke em High etc., because they are too narrow minded to appreciatethe unique personalities presented in those movies.





Lloyd Kaufman at the book signing of Toxic Avenger in Barnes Nobles
Anyway, it's a pity that in this world of entertainment, strong and clever stories are practically unaccepted because they are not a guarantee to make money. Yet, propaganda Spielberg movies, or generic block buster movies that rely on huge explosions or boring "independant" movies featuring actors who all talk in one tone are the types of movies that flourish in Hollywood.

Is there anybody out there that can appreciate good movies anymore?
Lloyd Kaufman's editorials on his site were something that interested me. At a time when media was slandering Ralph Nader, he wrote an editorial how democrats and republicans are not the only choices in voting, there are OTHER parties out there that should be considered. Few people ever mention that. Most just limit your voting choices to just 2.
In 2004, Tim Robbins and Susan Sarandon led a great crusade to vote against Nader (though they egged him on in 2000). They retracted all positive statements for him and formed a special list to vote against Nader. Which just goes to show how celebrities only support the candidate that makes them look the most cool. If Nader is being blemished and blacklisted by media, then it's too UNCOOL to be associated with him. I noticed that Lloyd Kaufman never retracted his statements nor took down his positive editorial about him.
Left to right - Pretty Troma Model, Me and Lloyd Kaufman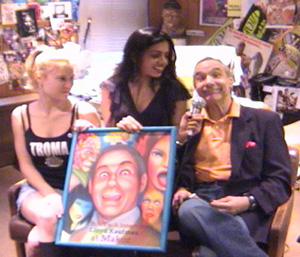 Art is for the People!
Lloyd Kaufman wrote about Napster emphasizing that Art is for the people not for the greedy conglomerates that are in control of most media. Napster and open sources were really means for regular people to come across local and underground artists without relying on mainstream TV to tell them what to buy etc. Pity few people understand this. Obviously if somebody is a fan of an artist, they will go out and support that artist.

For instance, I have all my sketch films available to download for free on the internet. I air it for free on both Manhattan TV and Queens TV, but yet I get many people requesting DVD's of my sketch films. Free media is a good thing!

Despite the fact that Lloyd Kaufman is not in mainstream Hollywood, he has still managed to successfully continue with this TROMA productions for all these 30 something years without relying on others. It's great that he has established his TROMA universe and has been quite successful in promoting himself for so long. Few people believe that they can create their own entity and self- promote themselves in a successful manner. Troma has kept him going. Lloyd Kaufman is one lucky little Devil to have continued this for so long.

I came across a funny segment (an extra on a TROMA dvd) where Mr. Lloyd Kaufman was at a film festival in Brussels Belgium. He pulled out his little camera and asked the film maker sitting next to him a question. The film maker said something inaudible. To which Lloyd Kaufman responds by saying "I have no idea what this guy just said". Then Lloyd Kaufman continues saying
"Independent Film!! You know its like killing babies. If you believe in killing babies then that's good, but if you kill babies and you don't believe in it then that's bad. Because you know, if you are killing babies and you believe in it, then you are doing something you believe in. Yup..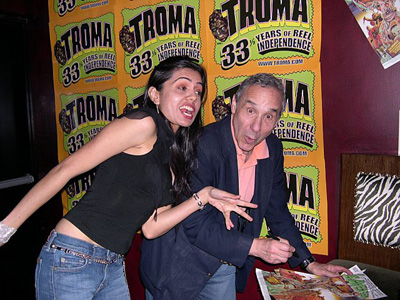 Links
Troma Entertainment
Lloyd Kaufman
Ms Divine's Tee Hee Heure