Whenever people bother me
When they shout and raise their voices
I don't let it get me down
I just make some stupid noises!

I go...HUH HUH HUH HUH NI NI NI NI YA YA YA [etc.]

When the boss is giving you the sack
'Cause you've lost all his invoices
Don't drink a bottle of sulphuric acid
Relax, make stupid noises!
Just go...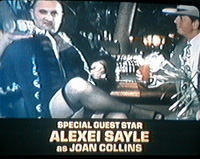 I'm not really foreign, you know. I just do it to appear more sophisticated!
Alexei Sayle has had many guest appearances in almost all of the episodes of the young ones. He's fun to watch. I like his cute little songs and his dance numbers that go with it. He's just a big ole baldy comical dude that brings much more looniness to the young ones. I have made a comprehensive web page (Alexei Sayle Website) for this guy. Please take a look at it.