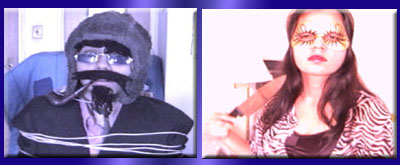 Attack of the Cake Mixer
Devo Music Video for Too Much Paranoias (Unoffical)
Most might remember Devo from their song Whip it from the Album Freedom of Choice. The song's music video was widely played in MTV and VH1 during the 80's, and is still frequently played on VH1 classic. After listening to many of Devo's albums, I liked the song Too Much Paranoias from the album "Are we Not Men? We are Devo". Thus I was inspired to do a little music video where Mr. Weird Man (one of my sketch characters) ends up in oodles of trouble. It is titled Attack of the Cake Mixer.
Synopsis
Mr. Weird Man is in trouble again. This time he falls victim to a out of control cake mixer, manoevered by a crazy seductress. He is trapped in a music video of Devo "Too Much Paranoias".
Running Time:00:2:58
Filmed: New York
Credits: Ms. Divine
Music: Devo Too Much Paranoias, Album Are we Not Men? We are Devo.