Cyanotic
is composed of Sean Payne (Vocals / Programming), Chris Hryniewiecki (Guitar) Drew Rosander(Guitar), Brian Blake (Bass).
Cyanotic's live line-up included Dave Schjolden (keyborg) and Adrian White (The Silent Alarm and Front Line Assembly, Strapping Young Lad) drums. They were opening for Chemlab.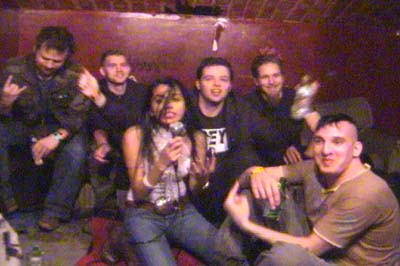 Cyanotic Video Interview
Cyanotic expressed a genuine interest in being interviewed for my sketch comedy program, Ms Divine's Tee Hee Heure - a weekly show that airs in both Queens and Manhattan on Public Access TV. Since Sean was familiar with my interview style and more importantly my skits, I thought the interview would be worthwhile even though I wasn't familiar with Cyanotic.
It turned out to be an entertaining energetic interview because all band members were enthused and wanted to be there. Their willingness and ability to react to me well, made the show quite explosive!
The full episode as aired is available to view.




Episode Summary of
Ms. Divine's Tee Hee Heure

Cyanotic concert footage
Ms. Poopee Doodee intros
Cyanotic Interview
Senor Nacho esta vivo - Musical
Cyanotic Interview
Ms. Poopee Doodee concludes
Cyanotic concert footage
MP4 (Mpeg 4) Version available: Download the mp4 version of the Cyanotic interview for better quality and to be watched at your own leisure. The MP4 is about about 150 Megs. RIGHT CLICK ON THE LINK and choose SAVE AS Target.
Download Cyanotic MP4

---
Sean's Obey shirt is from John Carpenter's movie They Live. There was a scene in the movie, where Roddy Piper was fighting with his friend in an attempt for him to wear the magic sunglasses. The fight scene was unusually long. At first glance, it seemed that the scene was thrown in to relive Piper's old wrestling days.
Why his friend was so adamant in refusing to wear the sunglasses seemed ridiculously funny. It didn't make sense to be engaged in a long fight just for that. But as you think about, it makes more sense. Convincing someone to see the truth can take an unusually long time as seen in the fight. After all not everyone can think beyond the boundaries and see life thru magic sunglasses....
Cyanotic Concert Pictures
In addition to Cyanotic in concert, you can also see pictures of them in the audience having a good time and showing their support for Chemlab. Sean of Cyanotic also makes a guest appearance in Part 3 of the Chemlab interview.
Cyanotic gave me a bunch of their stickers which I used to tack up posters of my show with, all around NYC streets. See the last picture in the set.
Click on the small pictures to make em big.
Links
cyanotic-online.com - Cyanotic Official site
Cyanotic Official Myspace