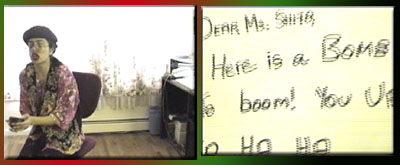 Boom Boom Bomb!
An eccentric secretary is a victim of a bomb threat. Witness Ms. Shito Bito's struggle as she tries desperately to stay alive. Listen to Ms. Poopee Doodee (world's most determined news reporter) bring you live upto date developments of the bomb attack. Hold on to your seats as Mr. Weird Man gives expert advice in dis-abling the bomb. Watch this one-woman sketch to see what happens.
Running Time:00:11:25
Filmed: New York
Credits: Ms. Divine
Music: Toons Tunes





Note:
1) I'm sorry but this film will be up soon. Please check out my other films.